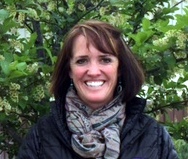 Dr. Jaime Lehfeldt grew up in rural Nevada where she raised and showed horses, sheep, and cattle. She showed hunter/jumpers, three-day-eventers, western performance horses, and rodeoed. During summer months, she would work at a guest ranch leading rides and starting colts. Along with her horse experience, the FFA and 4-H organizations taught her leadership, perseverance, business skills, and compassion for the animals and their owners which would be applicable in her career later on down the road. After obtaining her bachelor's degree at the University of Nevada, Reno, she was accepted to veterinary school at Oregon State University which allowed for a hands-on education with a small class size and wonderful staff at OSU as well as Washington State University. Following graduation, Jaime headed to Littleton Equine Medical Center in Colorado for a well-rounded internship. Dr. Lehfeldt did a residency at Oregon State University in Large Animal Internal Medicine doing research on equine metabolic syndrome, and camelid medicine. Following her residency, she returned home to Smith Valley, Nevada where she started a successful referral and general practice, focusing on preventative medicine, infectious diseases, and geriatric medicine. Internal medicine deals with the intricacies of the body, whether normal or abnormal, and how it responds to disease. During Dr. Lehfeldt's career, her curiosity about ways to help heal the body with a natural approach has developed. This interest spurred her on to get certified in Veterinary Medical Acupuncture and spinal manipulation allowing her to combine eastern and western medicine for her patients. Jaime met her husband, Erik, a rancher out of Lavina, MT and moved to the area in 2015. She has started a practice in the Billings area as a satellite practice of Montana Equine, Bozeman. The goal is to have a piece of property purchased in 2017 and a hospital built for referral and general medicine.
Tierany Ballard
Veterinary Assistant
Tierany grew up on her family's ranch north of Mosby in the Missouri breaks, very rural MT. Tierany has always had a passion for helping animals. After graduating from Winnett High School, Tierany went on to pursue animal science at Sheridan Community College. Tierany is now working as Dr. Lehfeldt's veterinarian assistant; she is working to become a certified veterinarian technician. Tierany just got married June 25, 2016 and spends most of her spare time working on her and her husband Ross' ranch in Lavina, MT. In her spare time Tierany loves hunting, fishing, really anything outdoors, and spending time with her family and critters.
Heather Bilden
Veterinary Assistant
Heather has spent the last five years learning to ride and care for horses on the cattle ranch that she and her husband operate in Lavina.  She has enjoyed the opportunity to learn about animal care first hand, including everything from working with a team of Percheron draft horses to assisting with the birth of calves.  Heather has a Master of Education degree, and teaches outdoor education at Montana State University- Billings and a the Montana Audubon Center.