Externships and Preceptorships for Visiting Professional Veterinary Students: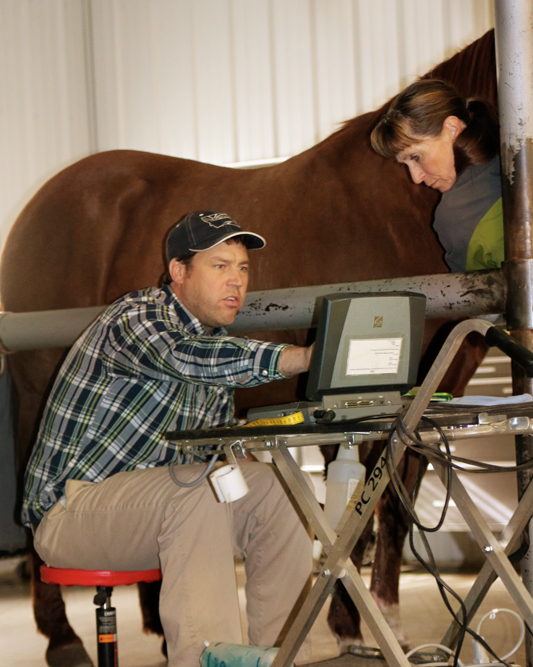 Montana Equine is pleased to offer visiting externships & preceptorships for professional veterinary students. With its long-established regional referral practice, our state-of-the art facility has continued to provide advanced medical and surgical care to patients, clients and referring veterinarians throughout the northern Rockies since 1999.
Our staff includes experts in Equine Surgery and Internal Medicine and other experienced veterinarians, all of whom are exclusively focused on equine patients. At our state-of-the-art facility, we offer the expertise offered at any teaching hospital, with the full range of surgical, medical, reproductive and routine services. Most cases can be fully diagnosed using our digital radiography, digital ultrasound, and digital endoscopy. When necessary, cases are referred for CT scan, MRI and nuclear scintigraphy or other speciality services. Our veterinarians have many years of experience training professional veterinary students, and enjoy mentorship. We all pride ourselves on including students in discussions about all aspects of clinical case management. Our hospital director, Peter Heidmann, has an appointment as Adjunct Faculty at WSU-Pullman, and Affiliated Faculty at MSU-Bozeman. Our senior surgeon, Jack Snyder, recently retired as Professor of Equine Surgery after a 25+ year career at UC Davis. With the advent of a new professional veterinary school at MSU in 2014, we anticipate continue growth in our program.
Housing
Housing is provided for visiting students, who shadow our veterinarians and also assist with hospital treatments, outcalls, and after-hours emergencies. Each individual student's level of experience will dictate their responsibilities to a certain extent, but we encourage active participation in all aspects of clinical care and seek primarily to foster an open, comfortable yet challenging environment for clinical training.
Location
Our hospital is located just west of Bozeman in Montana's beautiful Gallatin Valley and is staffed by experts in internal medicine and surgery. In addition, while you are here, you can enjoy some of Montana's finest outdoor recreation, including hiking in the Bridger Mountains, skiing at Bridger Bowl and Big Sky, and blue ribbon fishing on the Gallatin, Madison and Yellowstone rivers (to name just a few).
Visit
We prefer externships of one or more weeks because of enhanced opportunities for learning, but we'll schedule shorter visits. Due to the seasonality of our work, we encourage students to visit in the spring through fall months; our practice is busiest between early March and late October. This program is designed for professional veterinary students in the final two years of their curriculum. Underclassmen and undergraduates are also welcome to schedule externships, knowing that priority is given to students in years 3 and 4 of their professional veterinary training. During the summer months we do limit undergrads to a week visit, with the possibility of a longer stay if there is availability closer to their visit. Please contact Megan Triplett via email (megan@mtequine.com) or phone (406-285-0123) to schedule your visit or with any questions regarding the externship. Requests for externships are accepted year round.
We request the following materials:
A letter of good standing from your Dean;
Curriculum Vitae;
Proof of liability insurance (for undergrad students proof of health insurance);
Picture for identification purposes;
A few time frames that you would like to visit;